Lions Mane Mushroom Tincture
Regular price

Sale price

$20.00 USD

Unit price

per
Our 100% organic Lions Mane mushroom powder can be used as a nootropic to enhance the mood, memory, focus and concentration making this mushroom your new go-to for supporting cognitive health. 
Benefits

Benefits of our 100% Organic Lions Mane Mushroom Tincture include:

1. Support mental clarity.
2. Promote better memory, focus and concentration.
3. As a nootropic, improving the mood and overall cognitive functioning.
4. Support nervous system health.
5. Strengthen and modulate the immune system.
How to Use

Take 2-3 ml of our organic Lion's Mane mushroom tincture, up to twice per day.

Our Lion's Mane tincture is best taken directly beneath the tongue or in a small glass of water, but can also be consumed with coffee, tea, smoothies, elixirs and more.
Ingredients

Organic Lion's Mane (Hericium erinaceus) Fruiting Body, Certified Organic Non-GMO Cane Alcohol, Locally Sourced Spring Water.

Using with Reverence

NPN: 80097350

Consult a Health Care Practitioner prior to use if you are pregnant or breastfeeding.

Store out of direct sunlight, at room temperature for best preservation (lasts up to 4 years).
Share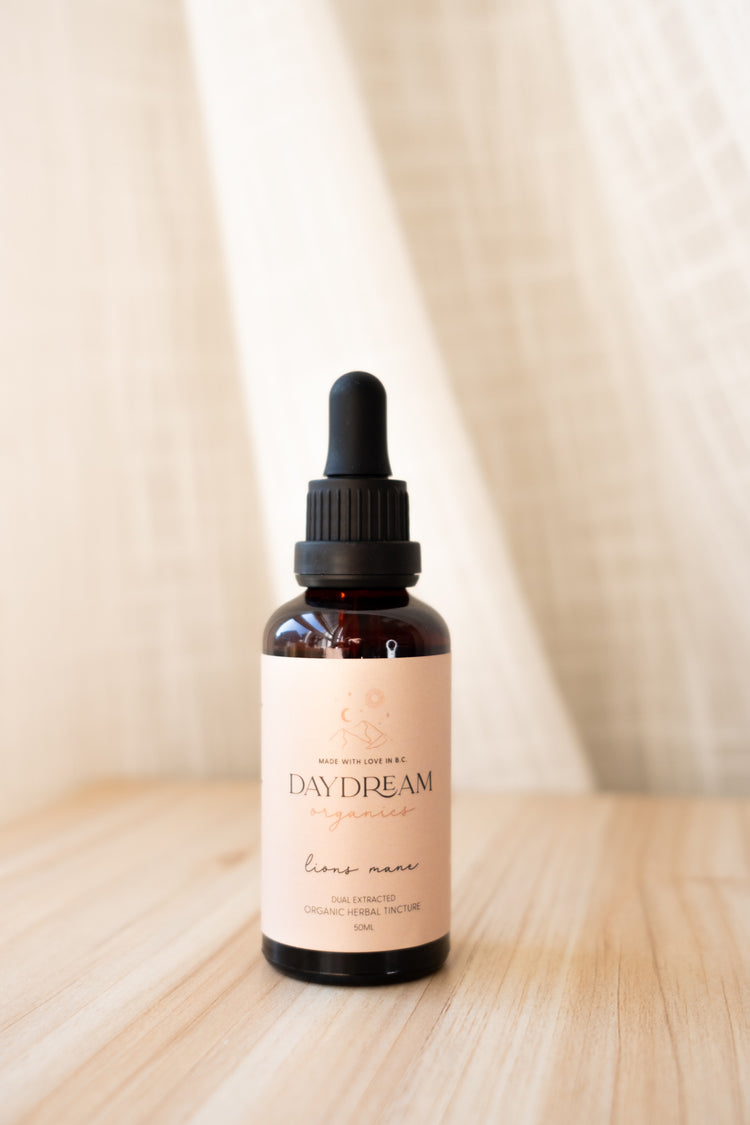 Lions Mane is the BEST!
I've been using Daydream's Lions Mane Tincture for a few months and I'm obsessed. Can't live without it. I take it with my morning coffee and I'm set for a creative, slow-living, stress-free day!
This stuff works!
This tincture is a must have for me! It has helped with my brain fog and my memory.
I love this product!
I have been taking Daydream's lions mane for cognitive clarity and help with memory loss, and their product is one of the best. Daydream Organics has clearly put many hours of research, thought and careful sourcing into the creation of this product.
Thank you!